Create a solid foundation of new movement habits to support function and decrease symptoms for lumbar spinal stenosis. Evidence-based movement protocol for this diagnosis has shown improvement with walkability, function, and pain levels. This non-surgical treatment option can improve your quality of life.
This series includes 2 weekly private yoga therapy sessions training and fine-tuning movement and breath practices specific to you. Pain science education will be included and a take home practice sheet encouraging daily movement routines.
Ongoing at Coastline Health and Performance in Gibsons, BC
Prenatal yoga is an amazing opportunity to connect with your body, baby, and other mothers. We will practice functional movement to strengthen your body during pregnancy and for birth in addition to practicing effective relaxation techniques and stretches for common ailments.
Next Offering: TBA
Prenatal Partners Workshop
Learn valuable tools to ease pregnancy, prepare for labour, and create deeper connection. We will explore movements for optimal fetal positioning, common pregnancy aches, and labour prep. This workshop has lots of hands-on from the partner, learning effective massage, pressure points, and breath support. Suitable for all trimesters and with a doula, friend, or partner.
Next Offering: TBA
This session focuses on support for your body and mind during this transitional time of life. We work to develop core and pelvic floor connection as well as easing tired bodies and aching shoulders. Babies welcome, and you don't need to be a new mom- this time and learning is great for moms however long it has been from birth.
Next Offering: TBA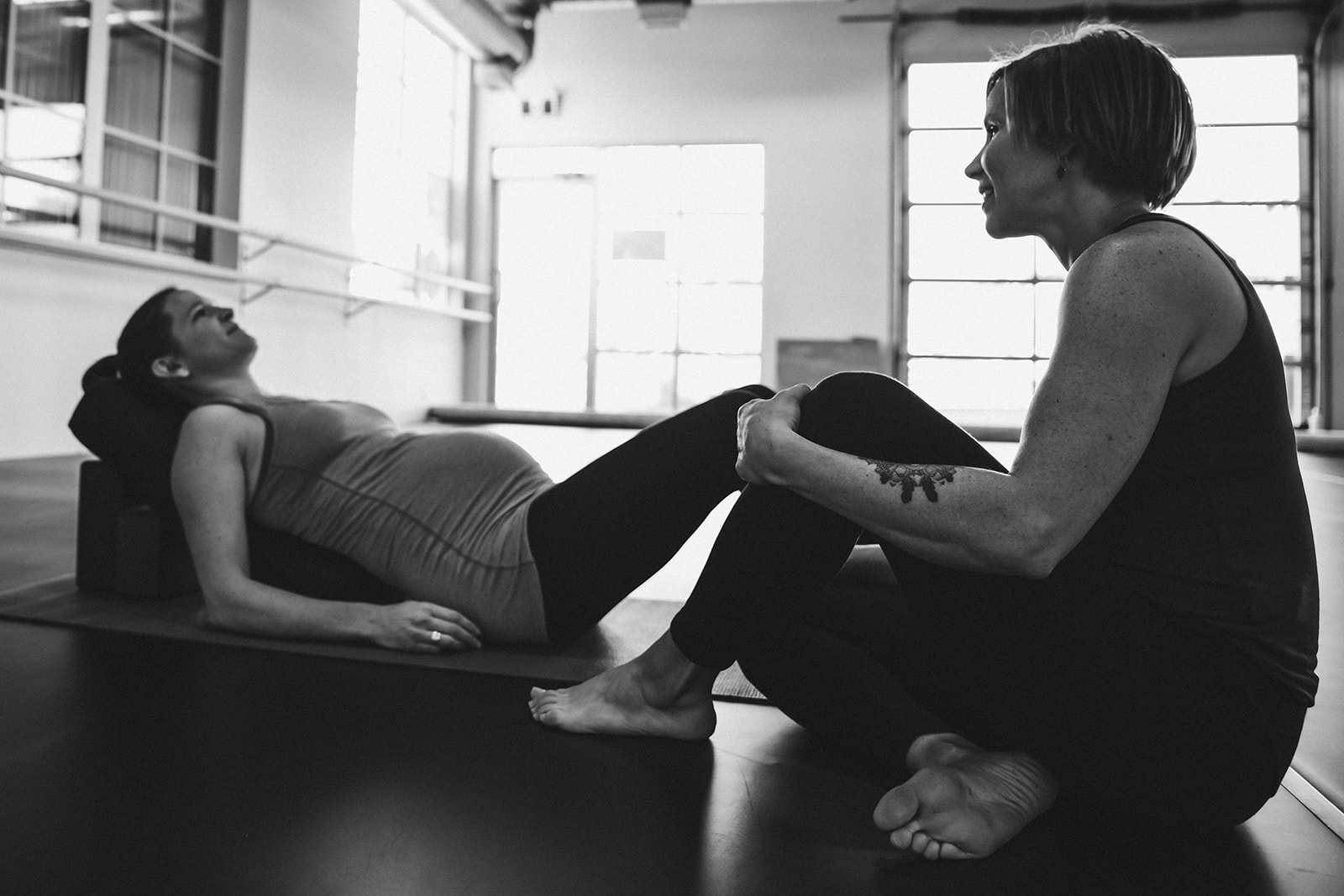 Yoga therapy is a holistic therapy merging western medical science with ancient yoga practices. Using yoga postures, movement, breath, and meditation to improve physical and mental health. Now booking private sessions in person or on-line.
Ongoing
Pelvic Floor Health Workshop
Learn and practice optimal movement of the pelvic floor in connection with the whole body. We'll work on self exploration of breath, meditation, and yoga asana to support the functionality of your pelvic floor.
Please get in touch if you'd like to offer this workshop at your studio or gym!
Minds in Motion is a fitness and social/activity program for people with early symptoms of Alzheimer's disease or another dementia to enjoy with a friend or family member. Leah teaches a 45 minute therapeutic yoga class to this engaging group. Register directly with SCRD.
Ongoing
I am lucky to be teaching weekly yoga at a local elementary school. If this is something you would like to see in your school please let me or your child's teacher know! We practice body awareness and proprioception (where your body is in space) as well as self regulation tools like breath and interoception (how your body feels inside).